We've chosen to include our blog in Frugal Free Gal's Friday Blog Hop!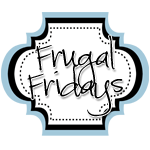 If you are unfamiliar with this type of event, it's a great way to get more exposure for your blog. It's also fun to check out other people's blogs in the process.
If you are new to this blog/website welcome! We are hoping to become missionaries with
Mission Aviation Fellowship
. This blog follows our journey to the field and beyond! We invite you to follow us via Google Friend Connect, Facebook's Networked Blogs, or subscribe to our blog!
Thanks for stopping by!
Blessings,
Eric, Kristine and Jenna Reed